This package is designed for when you are already ranking. This keeps things active and fresh while continuing to build a strong Google brand, making it difficult for other brands to catch up and overtake you!
This package is designed for low competition niches such as home inspection, dry wall, painters (in most locations), non profits, dog/cat breeders, cash for home buyers (most locations) and many other niches in rural areas.
This package is designed specially for when there is competition in decent sized cities- a population 50k -750k in the more common niches such as plumbers and electricians, for example. Many niches fall into this category. This package is designed to help you move up the rankings very quickly while crushing all competition.
Keyword Research
Your SEO keywords are the words and phrases in your web content that make it possible for people to find you via search engines such as Google.
Some keywords come with more competition than others for a top spot in the listings and search results. We call this score the keyword rank or KR. This score tells you how difficult it will be to rank highly in a specific keyword, based on the volume of your competition.
Report and Strategy Session
We will work with you to find the top keywords for your business, determine where you currently stand, and make a plan for which keywords to focus on going forward. This includes the cost/benefits of breaking into specific high KR keywords and determining new, low KR, high value keywords and phrases.
Google Business Profile
Google Business Profile (formerly Google My Business) is a service that allows businesses to establish a profile with their location, contact information and customer reviews, putting all your information at your customers' fingertips. One of the key benefits to a GBP is that it allows changes that you make to your business, such as location or hours of operation, to be updated across all of Google's services simultaneously.
Setup
If you don't already have one, our first step is setting that up for you. Consistency is key to maintaining a healthy online presence, and this will allow you to update your business information across all Google services, gain credibility with Google itself, provide users searching for your business with your key contact information without leaving the search page, and keep up to date with what your customers are saying about you.
Audit
Once your GBP is up and running, we will provide you with a full audit of your profile information, showing you where you're succeeding, what information might be harming your rankings, and where your biggest competitors are ranking in comparison to you.
Updates and Additions
Finally, we will take time to update any GBP information that could be improved upon, as well as making necessary additions to supercharge your profile.
Local Site Search Audit
The goal of any local business is to improve their organic rankings. 'Near me' searches have grown by over 900% in the last two years and aren't showing any signs of slowing down. This audit will help you figure out both where you're ranking the highest- and how to stay there! -as well as the elements that can be improved to give your business the boost that it needs.
On-Page SEO
Once our audit is complete and your individualized SEO plan is in place, we will devote time to improving the on-page SEO stats for your website. This involves cleaning up, editing and original content writing to maximize keywords and help boost your site to the top of the lists.
Geo tagged photos
Geotagging is the process of adding geographical coordinates to a photo. You (and your customers) won't see this information directly, but it helps link your online presence to a geographical area, boosting organic search rank and your local search rankings significantly.
Citations
The difference between backlinks and citations is subtle, but important. While backlinks are urls pointing directly to your website, a citation is a direct, online mention of your business's name, address and phone number. Both are important to increasing the online authority of your business.
New Citations and Cleanups
Having multiple listings with different data can confuse search engines, hurt local rankings and reduce the trust consumers have in your business. Once you have a strong list of citations, it's time to make sure that all the information spread between them is consistent. This includes updating old phone numbers, standardizing abbreviations, correcting typos and spelling errors, and more.
Map Embedding
Embedding a map of your location across multiple domains does a lot of things. To name a few: Most obviously, it helps potential customers know about and find your business. Besides making your location obvious, it provides customers and Google itself your business address, phone number, website url, reviews and more. Additionally, it helps assure Google that you really are where you say you are, helping you rank higher in local search results immediately, as well as passing extra authority or SEO power directly to your website.
Backlinks
One of the key things that Google looks at when determining how to rank your business is how many trusted, already ranking websites point to it. Because of this, the quantity of listings, the consistency of information in those listings, and the quality of the online directories all affect your search rankings.
DR
DR stands for Domain Rating. This statistic measures the strength of a site's backlinks in comparison to other websites. Directories with a high DR will pass more authority to your website, thereby raising your own DR more significantly.
Tier 1 / Local
Tier one backlinks are links which point directly to your website. First tier backlinks are considered the most authoritative, and pass the most benefit to your search rankings. These links can come from many sources, including guest blog posts and social media sites around the world. Local backlinks, however, come directly from sources within your service area, further benefiting your business and increasing the likelihood of your business being found in local searches.
Tier 2
Tier 2 backlinks are links which don't point directly to your website, but rather to places which themselves link to you. This might sound roundabout or ineffective, but an important element of a strong backlink profile is the authority of the sites that point to you. Boost their authority with backlinks of their own, and watch the benefit pass to you.
Google Document Stack
Also known as Authority Stacks, this is a strategy taking advantage of Google properties such as Google Drive, Google Sheets, Google PDF and more to improve rankings and achieve a high authority status.
Press Release
A highly underrated tool in any SEO toolbox is the press release. Wikipedia defines a press release as "…an official statement delivered to members of the news media for the purpose of providing information, creating an official statement, or making an announcement directed for public release."
This is an opportunity for absolutely stunning SEO work, allowing you to pitch your company organically through journalism as well as providing valuable keywords to boost your local search rankings.
Local Search Grid
A local search grid gives you a bird's eye view of what customers are looking for in your neighborhood, town or city. Each square of your local search grid represents 1 square mile, allowing you to see, with pinpoint accuracy, exactly how highly you're ranking locally in each keyword and where to focus your efforts. You'll also gain insight into the key ranking factors of your top 20 biggest competitors, monitor growth as your rankings improve, and spot spam or fraudulent listings that might be unjustly lowering your search rankings.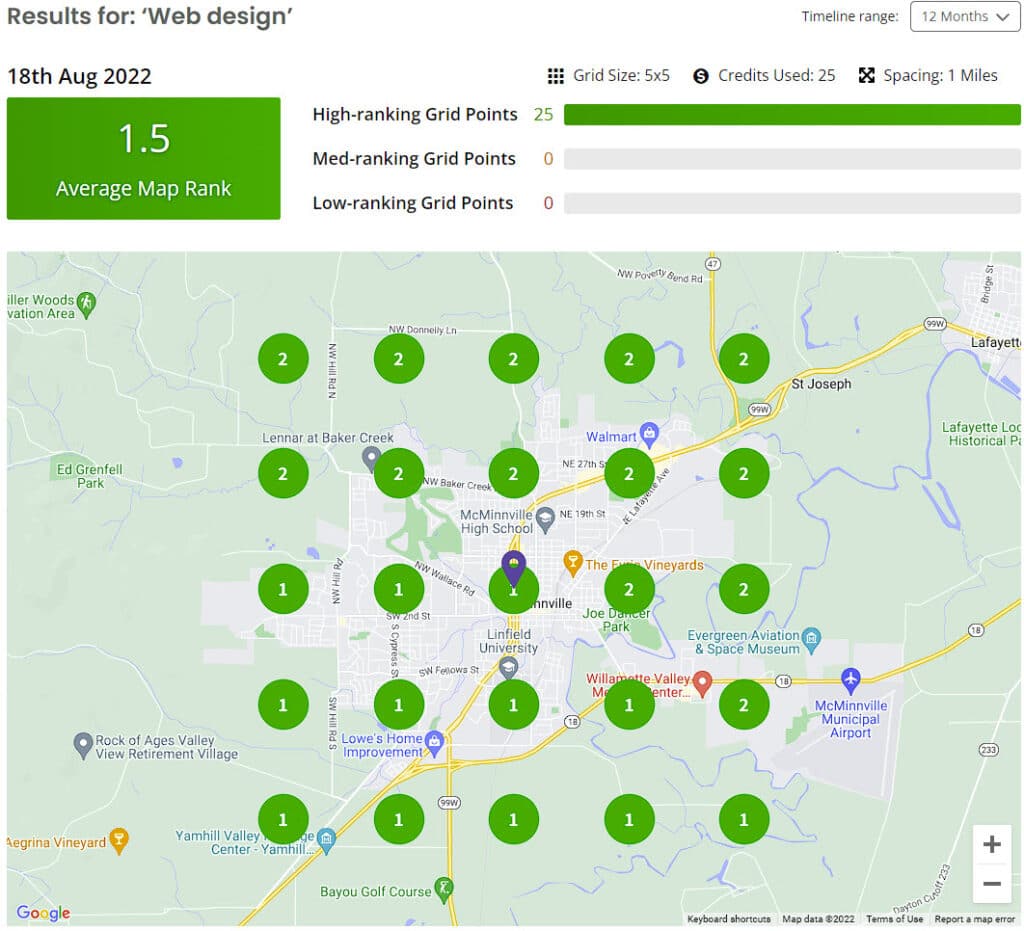 Reports Dashboard
You know the proverb: trust but verify. With our comprehensive reports dashboard, you can see for yourself how the work we do for you is helping your business grow over time. This will provide you with the insights you need to know exactly where you're at in your SEO journey, as well as keeping your thumb on the pulse of your reviews and customer feedback.
Our reports dashboard includes:
Links and Website Authority Report
Reputation & Reviews Manager
Citations Report
Google Rankings Report
Google Business Profile Report
Google Analytics Report
Facebook Statistics
Twitter Statistics
Weekly Local Search Grid Report
Custom Backlink Report via Spreadsheet