At CodeDesign, we're passionate about non-profits, which come with unique web design needs: walk a fine line between clearly and cleanly delivering a message and providing accountability and openness, all without sacrificing slick web design and great features. Let's check out some of our favorites.
1: Child Haven
Child Haven is a great example of visual storytelling done right. The ombre divider spans multiple images, tying them together into a cohesive and hopeful story, and the menu buttons in the header are clean but unobtrusive. We appreciate that opportunities to support their cause are abundant without being overwhelming, and the visual story means that by the time the viewer reaches the bottom, they're invested.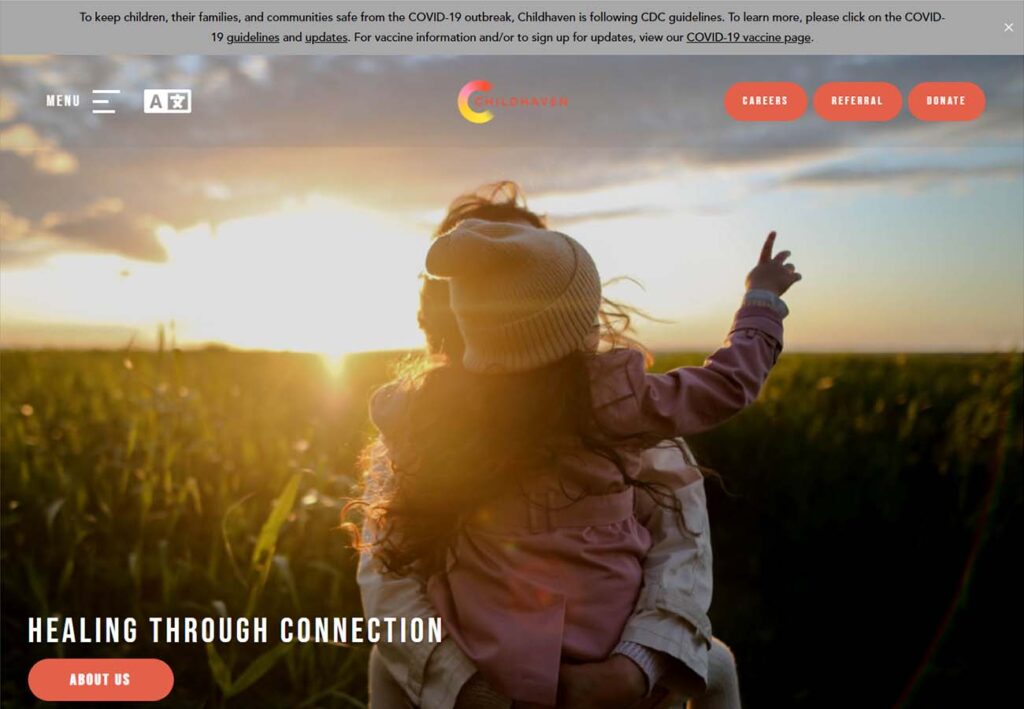 2: Dev NW
Dev NW doesn't rely on photos at all on their home page. Instead, simple but colorful linework illustrations for each section make for a neat and interesting front page, giving the impression of movement and busyness without feeling crowded. Below, the elaborate footer gives all the links and details in content columns, letting you look for something specific rather than browsing through multiple sections to find what you're looking for.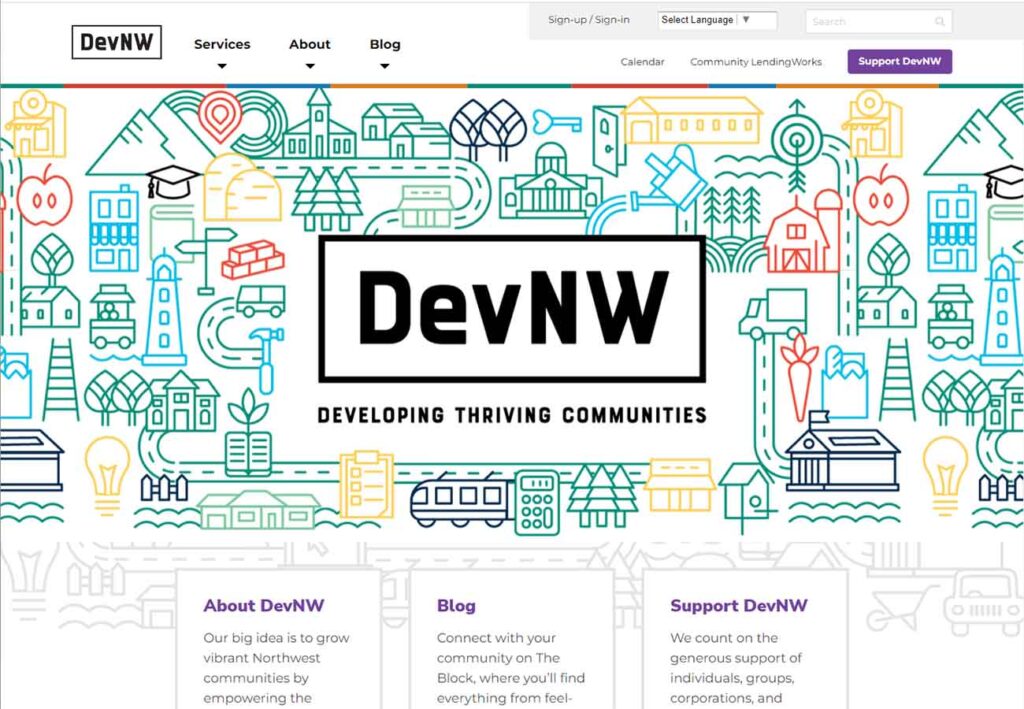 3: Valor Mentoring
Here we have an attractive, clean, simple home page that's very visually focussed. It doesn't overwhelm the viewer with information but instead divides their site between 3 images with simple white text and a link box. A tried and true strategy, this site leaves a clear visual impression rather than overwhelming the viewer with everything all at once.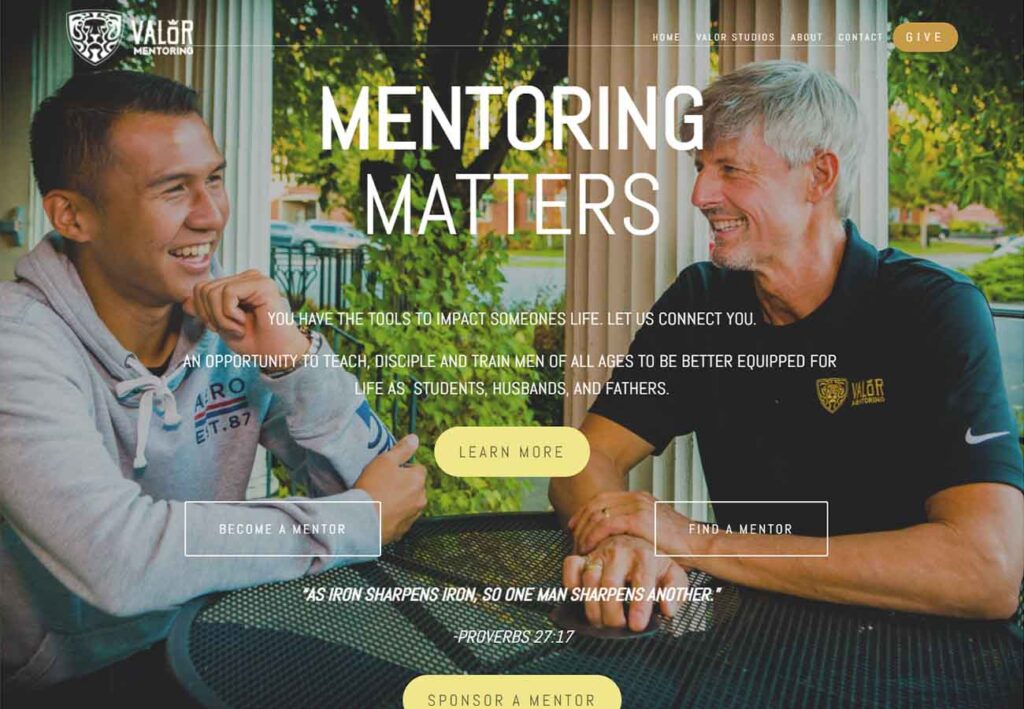 4: Oregon Community Foundation
Somewhere between the (excellent) extremes of our last two examples, The Oregon Community Foundation strikes a nice balance of images and flat colors. This lets the eye rest and does a good job of highlighting what they as a company consider the most important content pieces. The blue and orange color scheme is attention-grabbing without being overwhelming, and the orange graphic is a consistent theme that ties the page elements together.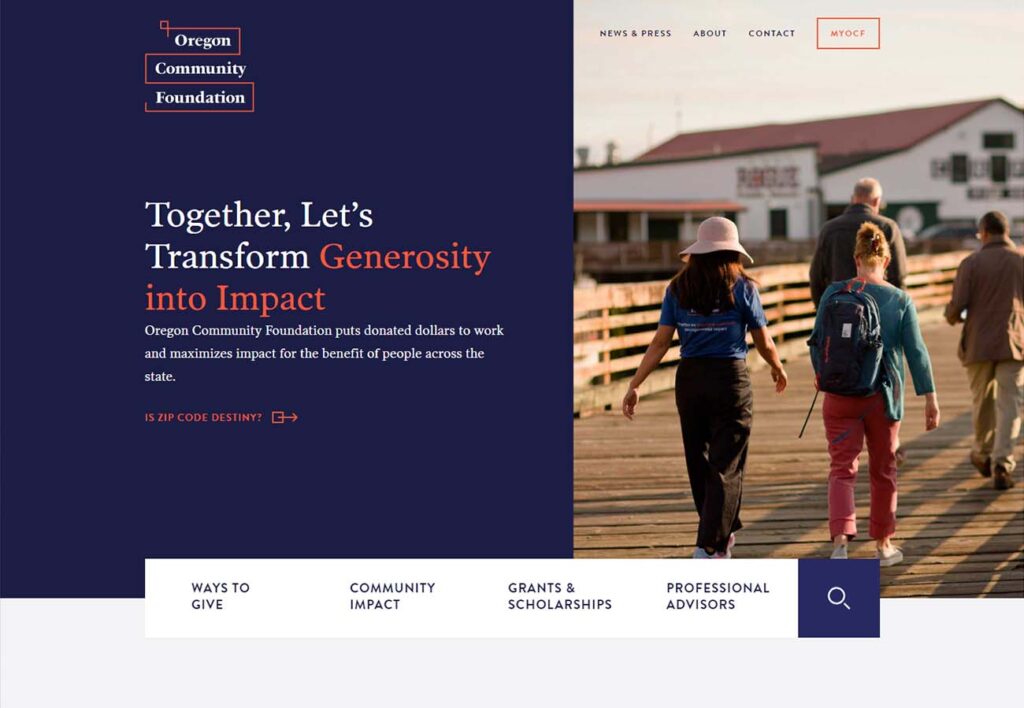 5: Youth villages
Youth Villages' choice of contrasting red and green, not to mention the asymmetrical divide between content blocks, adds a lot of visual interest, and the dynamic map with clickable links to each state is just frankly neat. We appreciate the balance they provide of abundant content blocks mixed with clean images and graphics, allowing both visually focussed users and those that prefer text and information to be equally well served.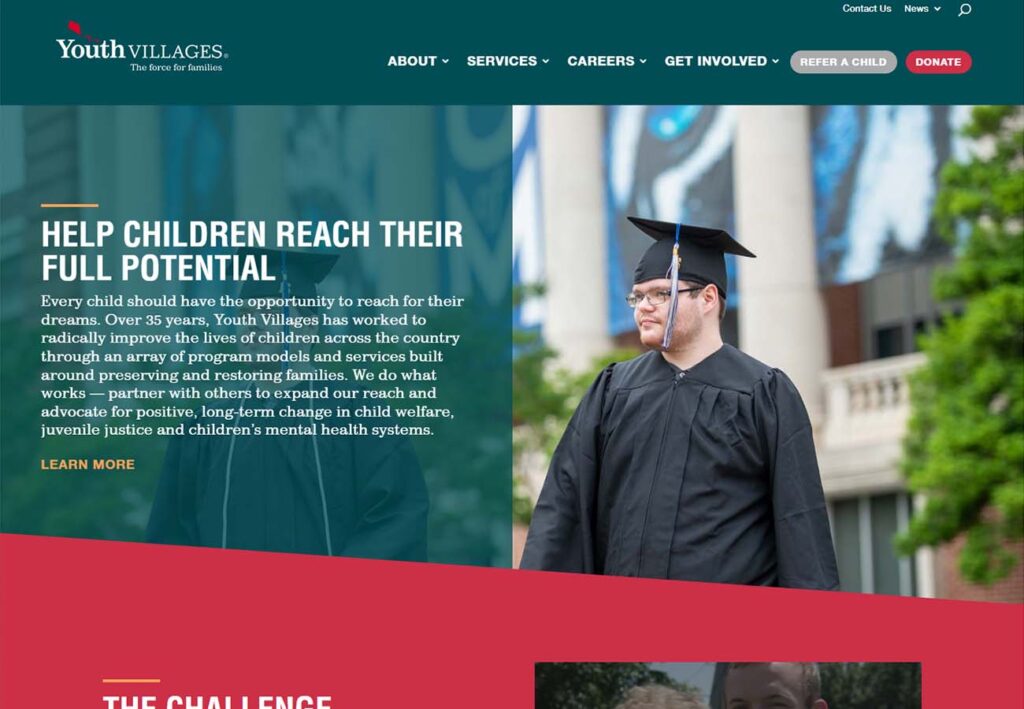 6: Salem Drop (Youth Era)
Youth Era's Salem Drop website just feels informative. Clean with a good balance of bright and dark, the font sizes lead the eye comfortably and serve to break up what would otherwise be a great wall of text. The calendar, which looks almost like something you'd find in newsprint, is subtle but effective and never feels cluttered: something often difficult to do with a full page of black and white text.
https://www.youthera.org/salem-drop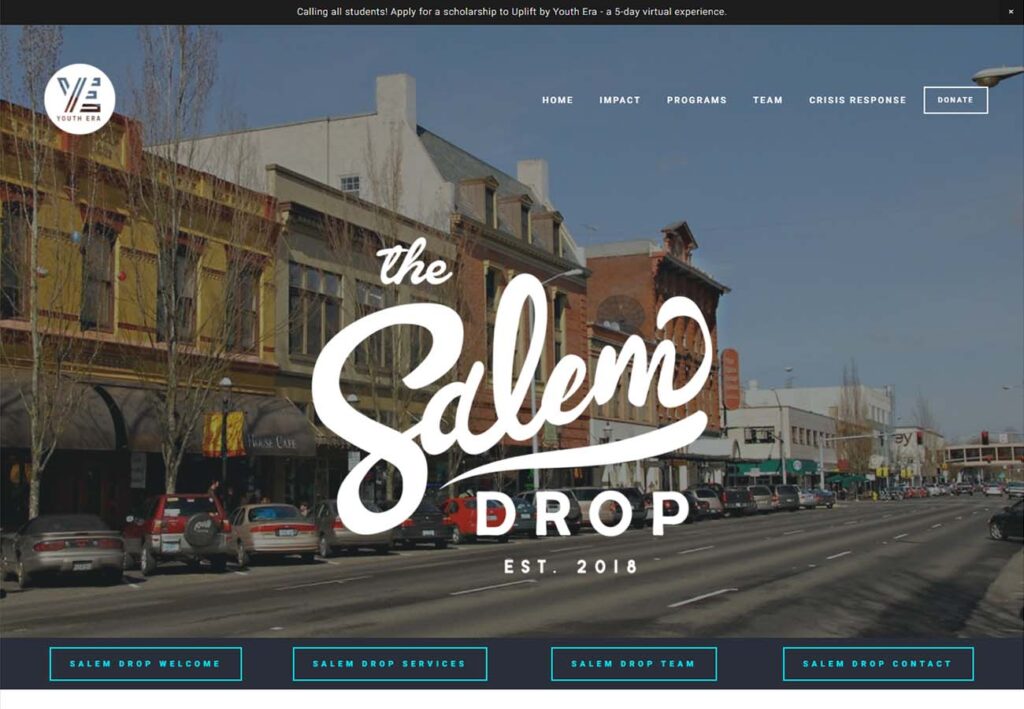 7: Choose 180
Choose 180 uses a nice mix of slick full page images broken up with multi-line information blocks. Their colors are clean and dynamic, their photos well-lit, and there's a nice mix of donor information and minimalist marketing.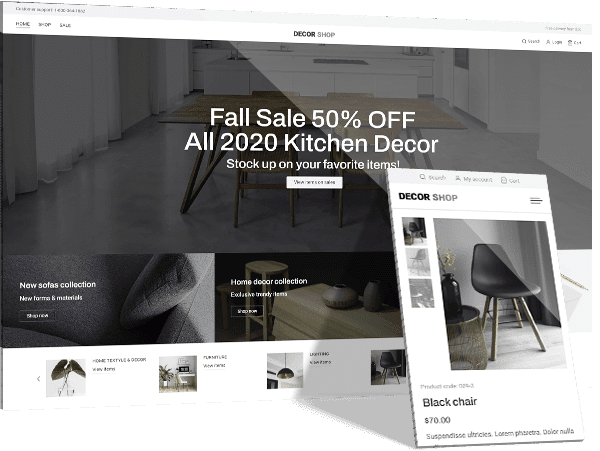 We deliver a free website mockup in 7 days. No future obligation or cost, guaranteed!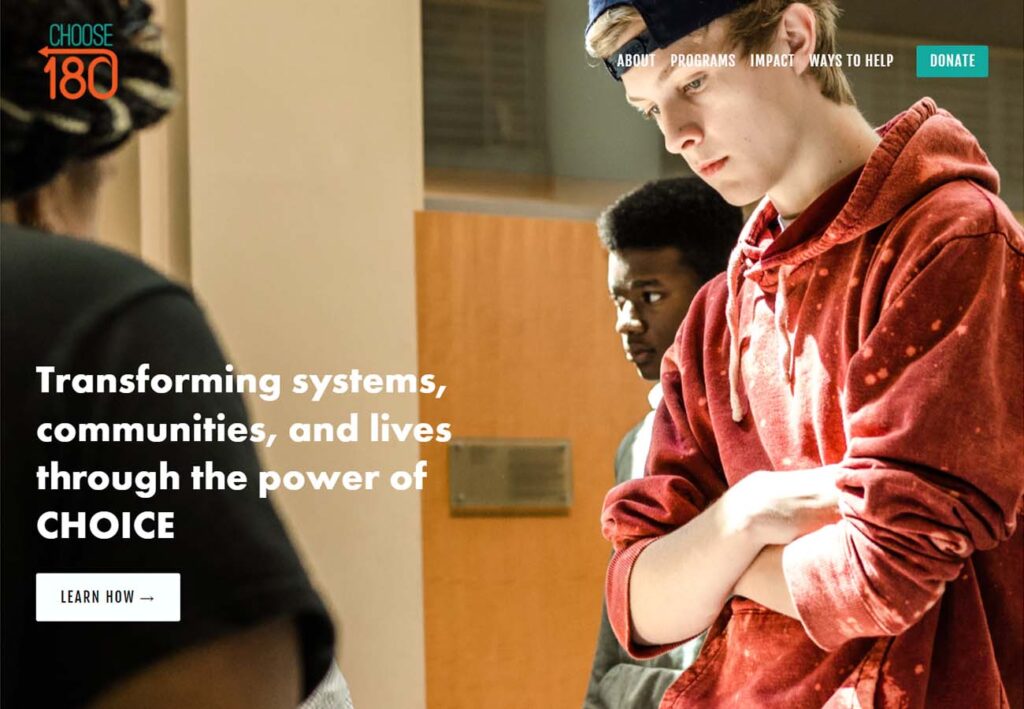 8: OSEA
OSEA is a great example of a website that embraces its wealth of content on the front page. Harkening back to the days of magazines and printed flyers, the layout gives it a nostalgic and comforting feel without sacrificing readability.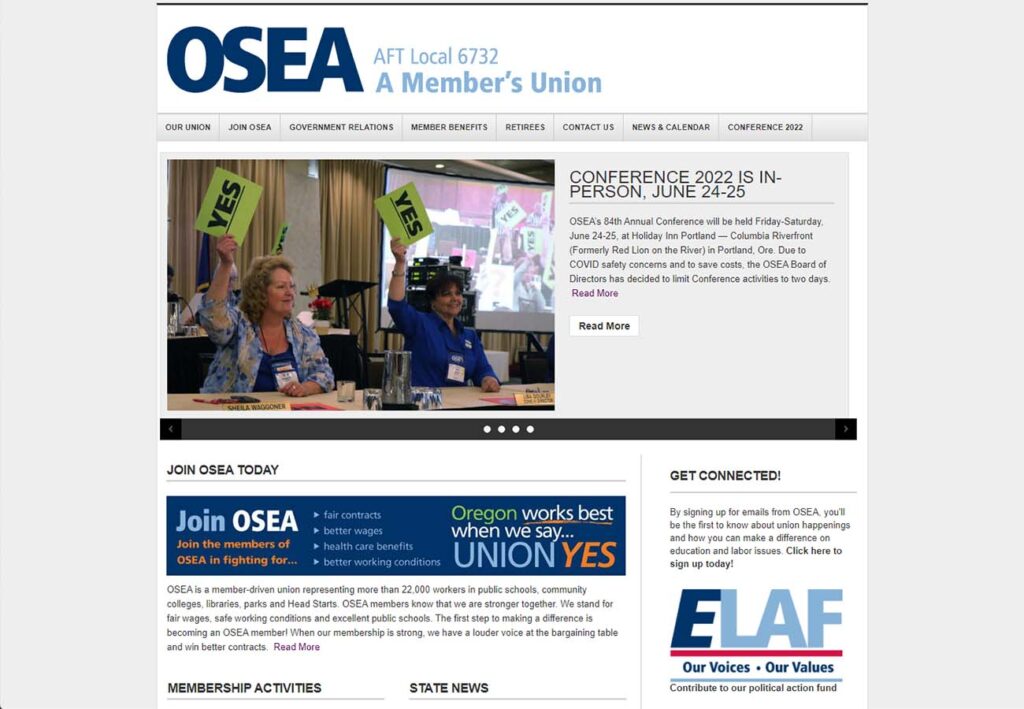 9: Oregon Telecommunications Association
Oregon Telecommunications Association is showing its chops with this simple but beautiful front page. They've chosen a dark red and light gold as their main colors, tying everything together on their content pages with pops of red and gold throughout.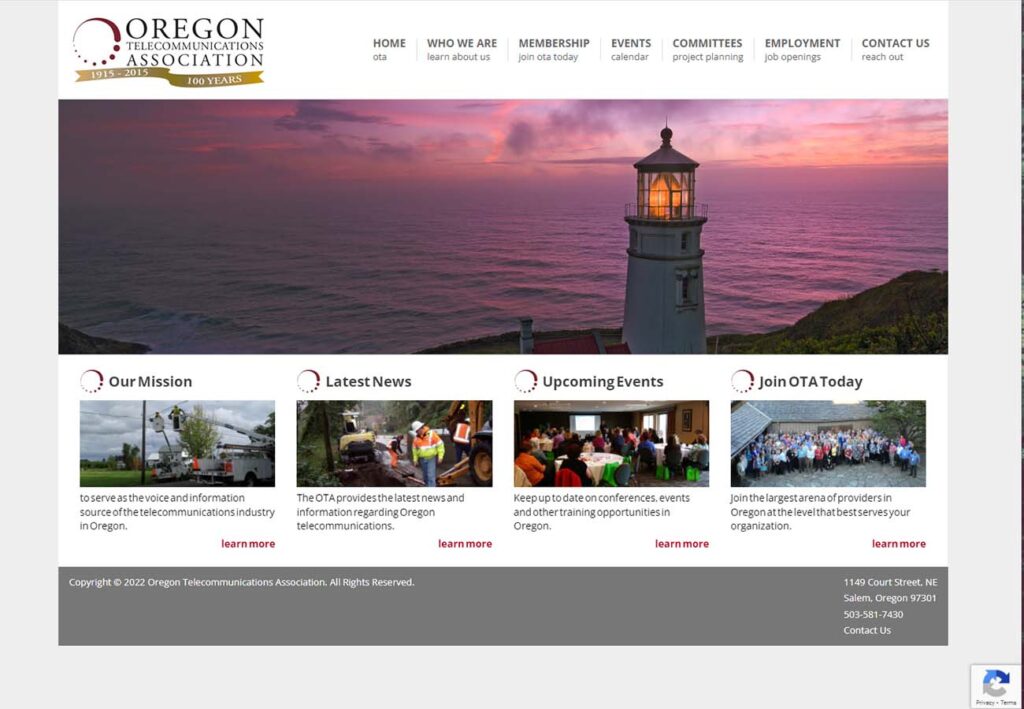 10: Big Brothers, Big Sisters of Snohomish County
Last but not least, Big Brothers, Big Sisters of Snohomish County presents a clear color scheme, using a bright green that shines through the dark graphics throughout to highlight the places the viewer can interact with the page. The social media links in an interesting mid page content block help give the eye a place to rest, and we love how the menu changes from semi transparent to opaque as you scroll down the page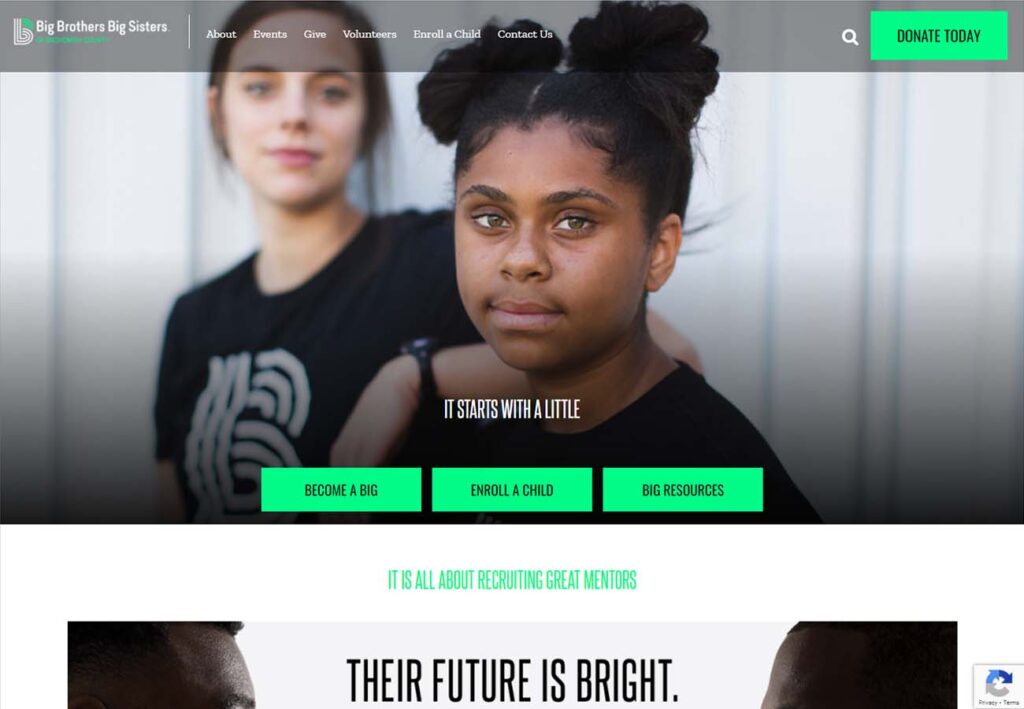 Disclaimer: The information contained in these blog articles represents the views and opinions of the individual writers, and do not necessarily reflect the views of CodeDesign or the featured businesses. Opinions are based upon information they consider reliable, but neither Codedesign nor the companies which are featured guarantee its completeness or accuracy, and it should not be relied upon as such. We take all information used for promotional purposes directly from the featured website. This information is accurate, to the best of our knowledge, at the time of publication. We take no responsibility for any changes made thereafter, and It's always best to visit the featured websites directly to ensure current and up-to-date information.