Did you know that The Willamette Valley Wine Region is one of the most influential wine producing regions in the entire Pacific Northwest? How about the fact that we're home to over 700 wineries, and have two-thirds of Oregon's wineries and vineyards right in our own backyard? With so many options to choose from, take a quick tour with us and check out some of our favorites.
1: Bjornson Vineyard
Situated perfectly between McMinnville and Salem, Bjornson Vineyard offers exception wine in the Eola-Amity hills. Powered by renewable energy, each of their 4 blocks is named after one of their children, and offers unique elevations and soil types. We love how family and ecologically focused Bjornson is, devoting over 75 acres of their estate to conservation and certified Salmon-Safe and sustainable by L.I.V.E. (Low Input Viticulture and Enology).
With a gorgeous tasting room, knowledgeable staff and an electric vehicle charging station right on site, experiencing Bjornson in person is a must on any wine-lover's list.
https://bjornsonwine.com/visit/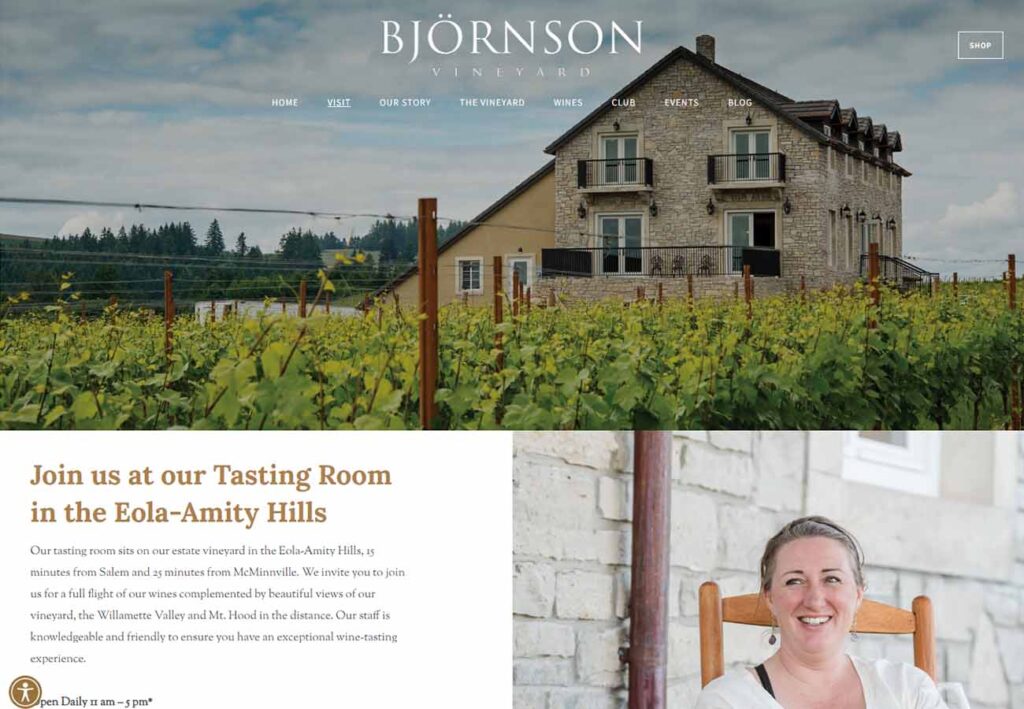 2: Hopewell Wine
We can't even try to compete with Hopewell Wine's beautiful, personal descriptions of their land, vines and story. We'll settle for saying that this is a beautiful location on a consciously small, integrated farm. With every wine telling part of a story, we're excited to try their newly released 2021 wines, where the Experiment of the Three Children "tells the story of HopeWell via vignettes of different wavelengths of Pinot Noir."
Check out their full website for lush descriptions of the vineyard, Hopewell wines and the family that tends them by founder Mimi Casteel.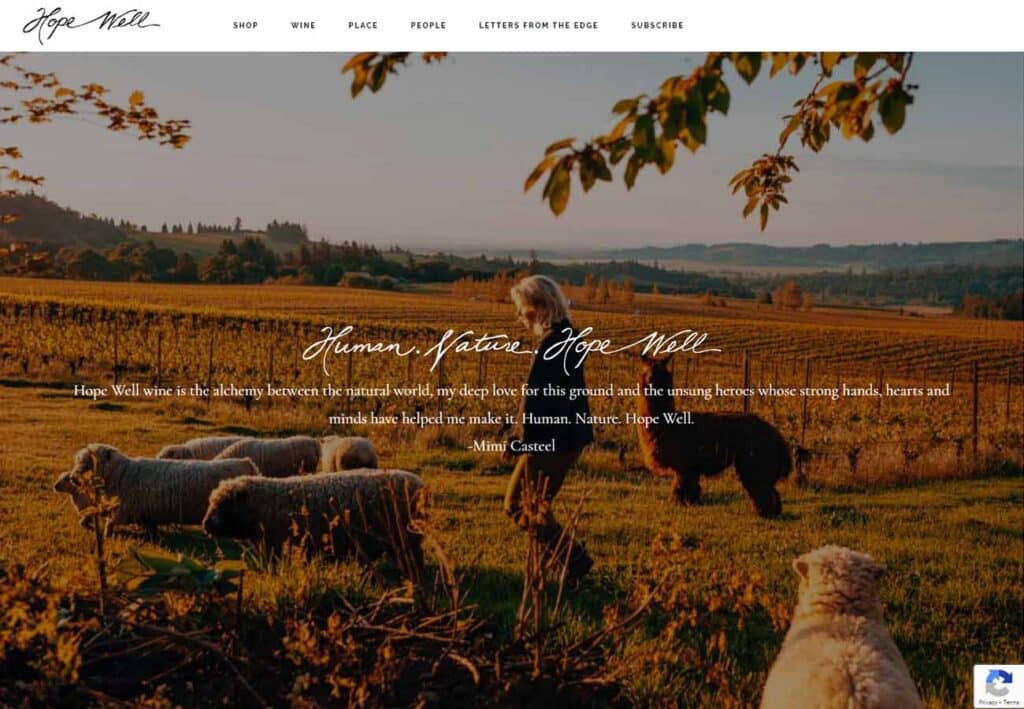 3: Ankeny Vineyard
"Founded in 1980, Ankeny Vineyard's 22 acre estate is less than one mile from the Willamette River, overlooking Ankeny National Wildlife Refuge where thousands of migratory waterfowl -including beautiful Canada geese- enjoy the farmland, riparian forests, and seasonal wetlands."
For the detail oriented wine enthusiast, Ankeny Vineyard provides tons of information about their grape varieties, elevation and soil types, so you can find exactly what you're looking for. Try their delicious wines online, at their tasting room in Salem, or during any of their upcoming live music events.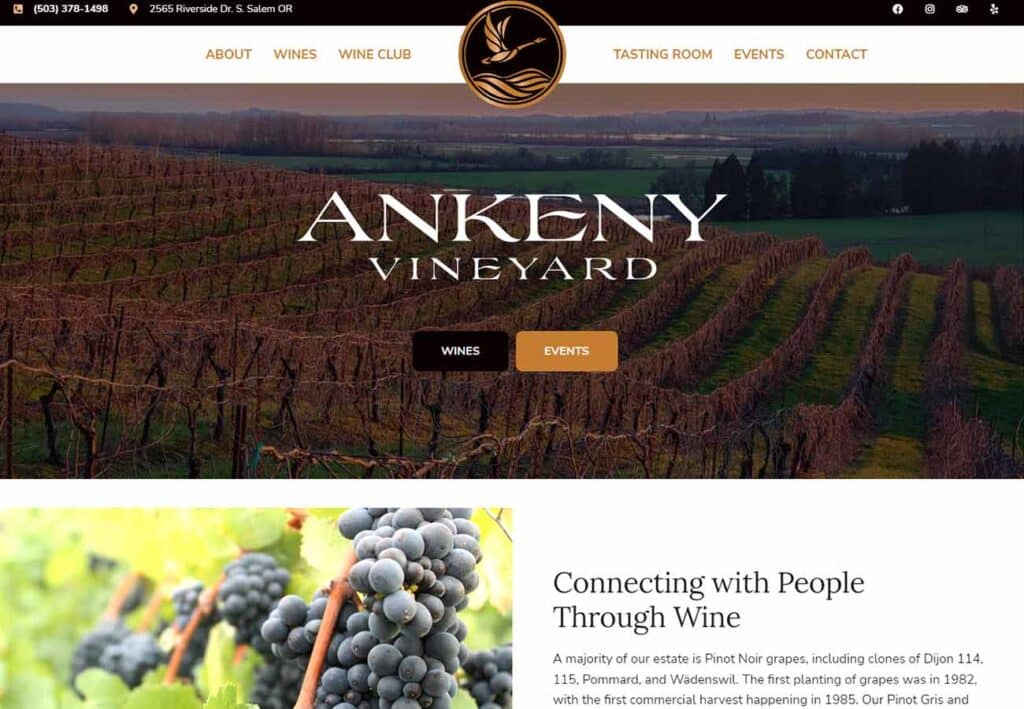 4: Zenith Vineyard
Zenith Vineyard has centered sustainability as their core wine-making ethos, forgoing all herbicides and insecticides while improving the soil through fertilization from their 2,000 sq ft composting facility.
If sustainability and land stewardship hasn't gotten you excited yet, their delicious wines, scrumptious private tastings and custom designed wedding and event ballroom certainly will. Check out their stunning photo gallery, perhaps while sipping something delicious from their wine store.
http://www.zenithvineyard.com/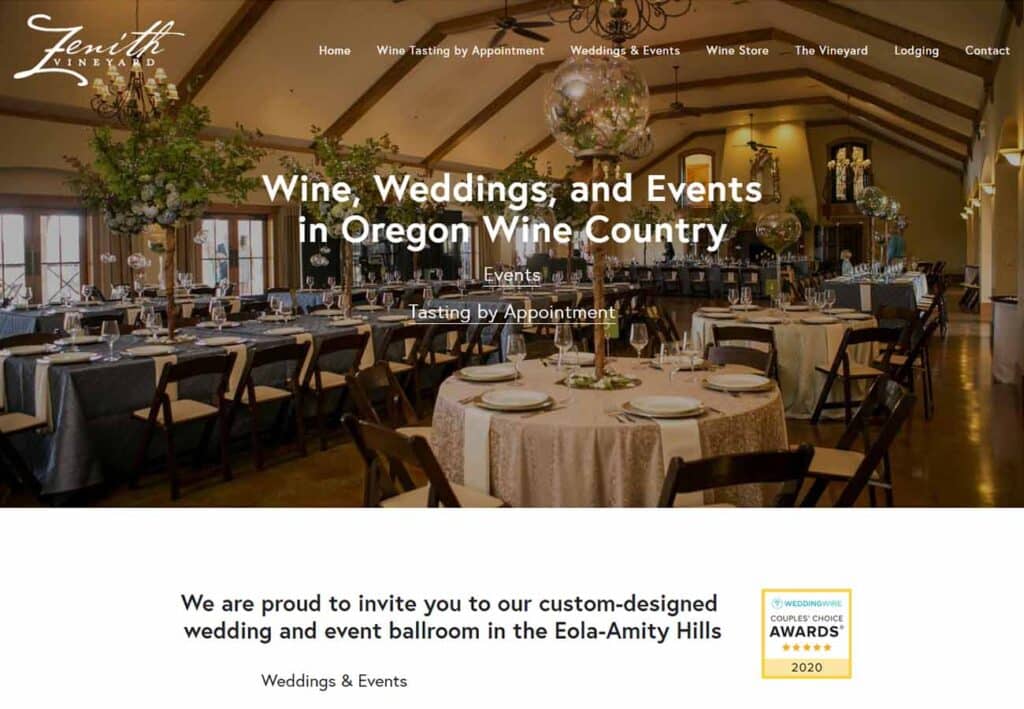 5: Sokol Blosser
Coming from a long-time Yamhill County resident, Sokol Blosser winery has been synonymous with delicious local wine in our community for as long as we can remember.
Originally planted in 1971, their 89 acres of certified organic grapes in the Dundee hills are on their 3rd generation of family management. Sokol Blosser offers wine tastings, private events and so much more in addition to their amazing wine shop.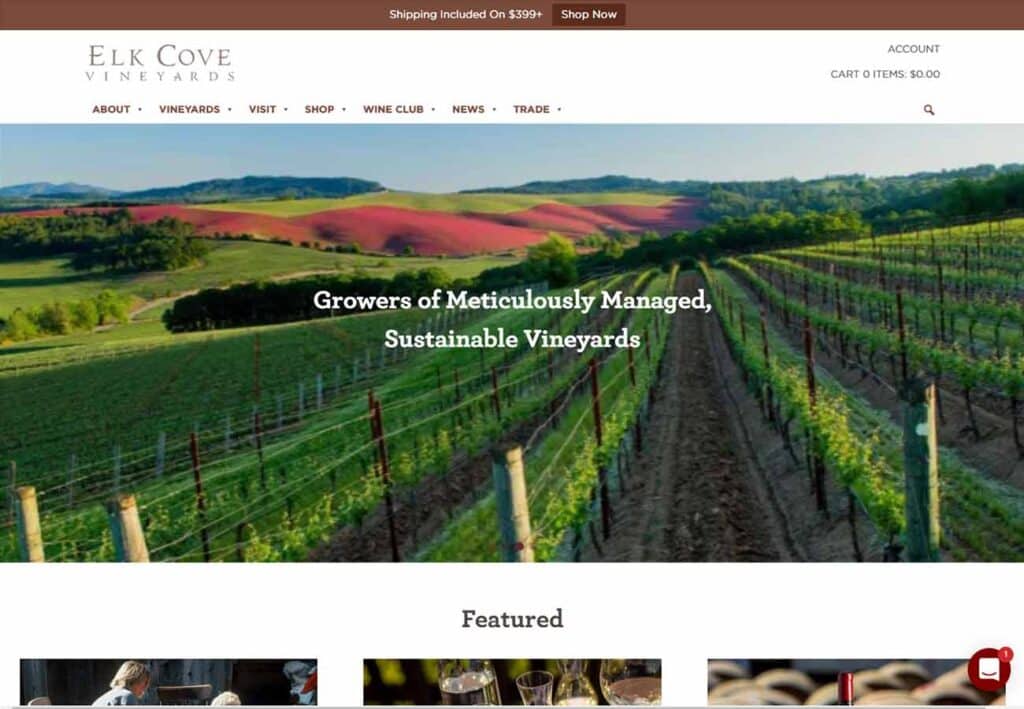 6: Elk Cove
Another jaw-droppingly beautiful estate, Elk Cove has a long list of well deserved accolades. With well over a dozen wines rated 90 and above on the Parker 100-pt rating system and a fantastic online shop, it's easy to see why they were voted one of Oregon's top winemakers in 2018.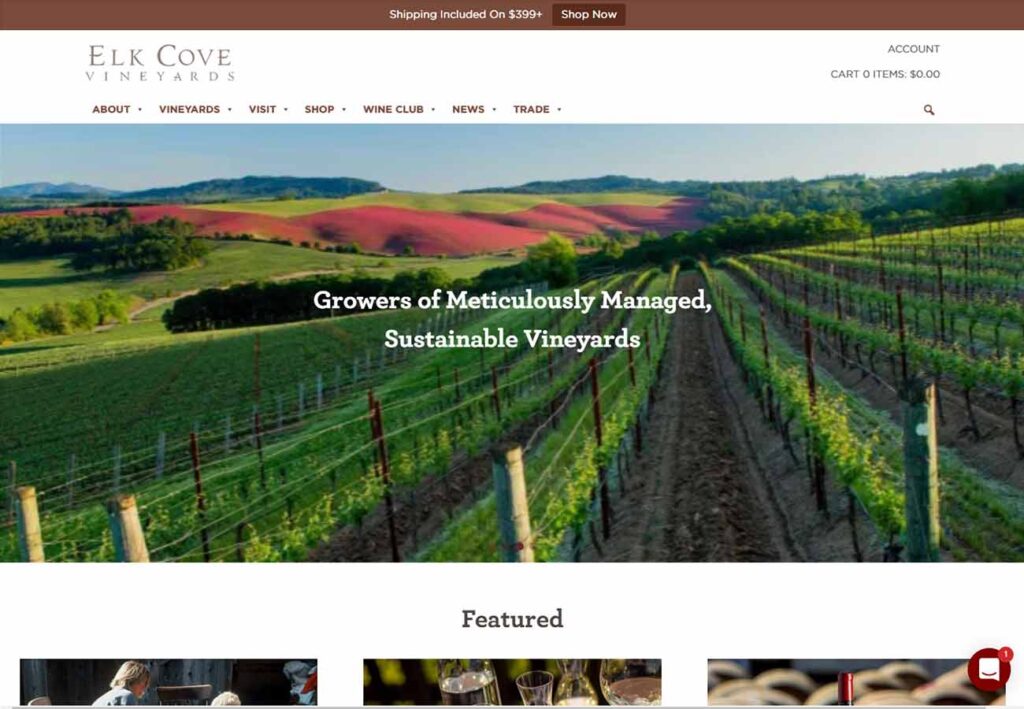 7: Alloro Vinyard
Alloro Vineyard stunning, single-vineyard estate in the heart of Oregon wine country.
Spread across 100 acres, the Alloro farm is a diversified landscape reminiscent of the Old World, where heritage sheep mow vineyard cover crops in early spring, and Manure from Hereford cattle is spread across their hay fields as fertilizer. Their philosophy, "staying close to the earth is staying close to the riches of life" is evident in the luxurious wines, delicious food and stunning views.
https://www.allorovineyard.com/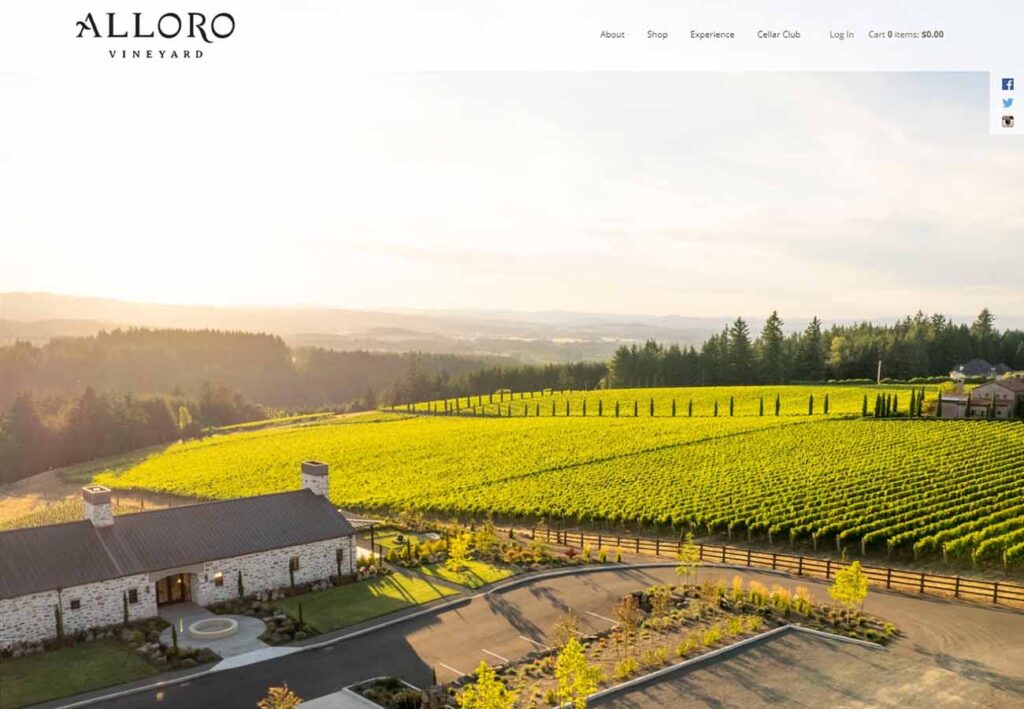 8: Stoller Family Estate
"Our Roots Run Deep."
Another local staple is Stoller Family Estate. Shop their wines online, or check out any -or perhaps all- of their in person tasting options. From Hilltop Tastings, a Stoller wine bar, a special tasting with historic wines paired with stories of some of the oldest vineyards in the region, or even an interactive, augmented reality tasting, there's something for everyone.
https://www.stollerfamilyestate.com/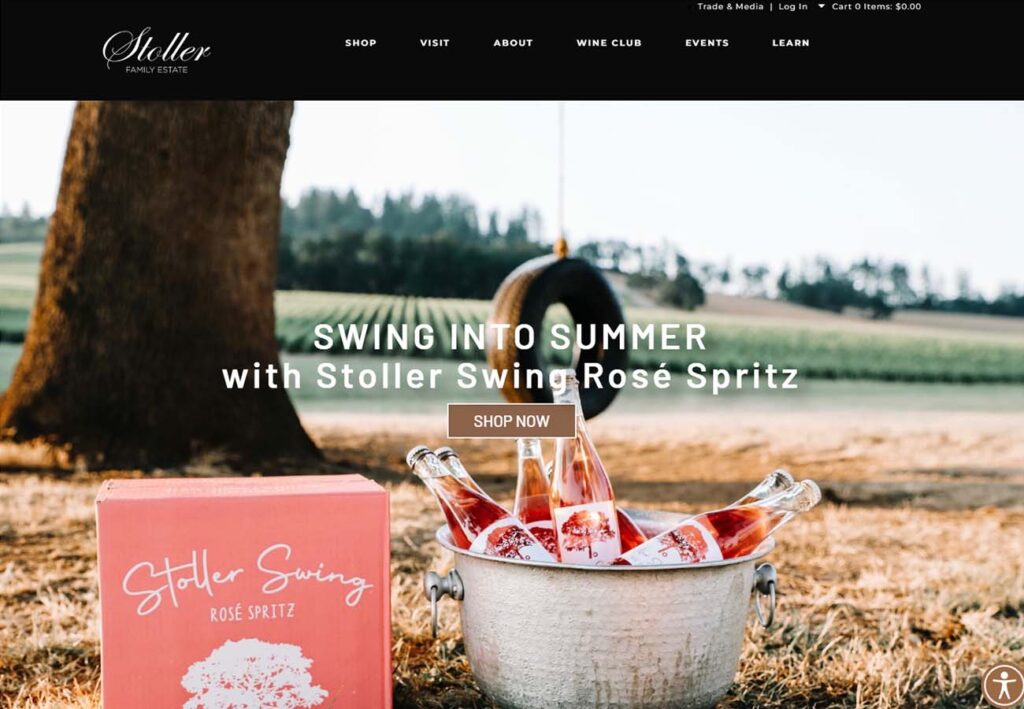 9: Tumwater Vineyard
Tumwater Vineyard offers a fantastic local experience and a handy table reservation feature front and center on their website, making it fantastically easy to experience their beautiful tasting room in person. Check out their club membership, or take advantage of curbside pickup with their Wine-to-Go program.
With 3 acres of Chardonnay and 19 acres of Pinot Noir grapes, Tumwater looks forward to offering even more estate wines in June 2023. While we're waiting to try them, enjoy their 2022 Summer menu with six Pinot Noirs from award-winning Willamette Valley vineyards.
https://www.tumwatervineyard.com/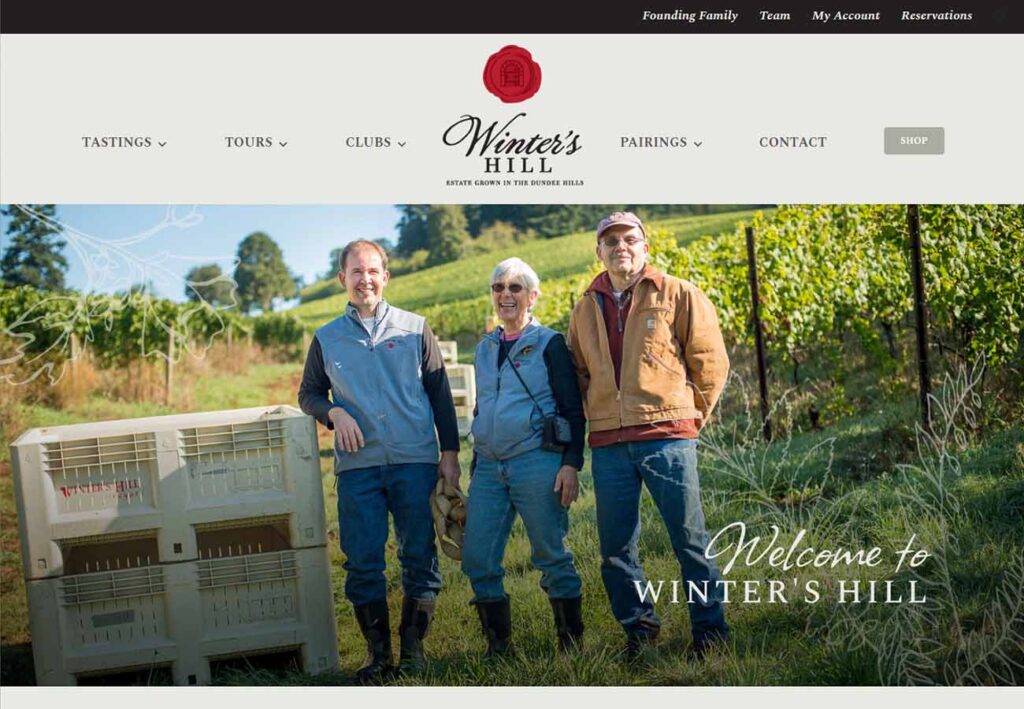 10 Winter's Hill
Another vineyard nestled in the beautiful Dundee Hills, Winter's Hill Wine offers tours of their winery, vineyard, and stunning native gardens. A two-level winery built into the Dundee Hillside allows Winter's Hill to gravity transfer their freshly harvested grapes directly into the presses and fermentation tanks. Stroll through their 35 acres of Pinot Noir, Pinot Gris, and Pinot Blanc, which is also part of the Yamhill Valley Birding Trail thanks to their extensive conservation efforts. to their extensive conservation efforts.
Frequently Asked Questions
What's the difference between a winery and a vineyard?
A vineyard is a farm that grows grapes, while a winery is the production facility where those grapes are made into wine. Finished wines are then taken to a tasting room, often with a view of the same property where they were grown.
What Makes Willamette Valley wines special?
Willamette Valley wines are special because of the unique climate and soil conditions that create ideal growing conditions for Pinot Noir grapes. The region's cool, wet winters and warm, dry summers allow for slow ripening, resulting in complex flavors and aromas in the wines. Many wineries in the Willamette Valley practice sustainable and organic farming methods, further adding to the quality.
Disclaimer: The information contained in these blog articles represents the views and opinions of the individual writers, and do not necessarily reflect the views of CodeDesign or the featured businesses. Opinions are based upon information they consider reliable, but neither Codedesign nor the companies which are featured guarantee its completeness or accuracy, and it should not be relied upon as such. We take all information used for promotional purposes directly from the featured website. This information is accurate, to the best of our knowledge, at the time of publication. We take no responsibility for any changes made thereafter, and It's always best to visit the featured websites directly to ensure current and up-to-date information.