Whether you're an up-and-coming artist or a seasoned professional, one of the best investments you can make in your art career is in a personal, online portfolio website for your art. From traditional pen and paper to digital illustrations, tattoos, animation, and more, check out some smart web design decisions and even more mind-blowing creativity in our latest website feature.
1: Yehuda & Maya Devir, Comic Artists
With a bright color scheme and interactive content, merchandise is centered on the front page as well as courses and workshops. The art portfolio is easily accessed, but get your credit card out because letting your online store speak for you is one amazing perk of selling your own artwork.
This husband and wife team of visual artists' illustrations have exploded in popularity these last few years, and their site is a perfect example of how to build a brand (and a great website) around your thriving art career. We're so excited to see what new projects they come up with as they grow into an even wider audience.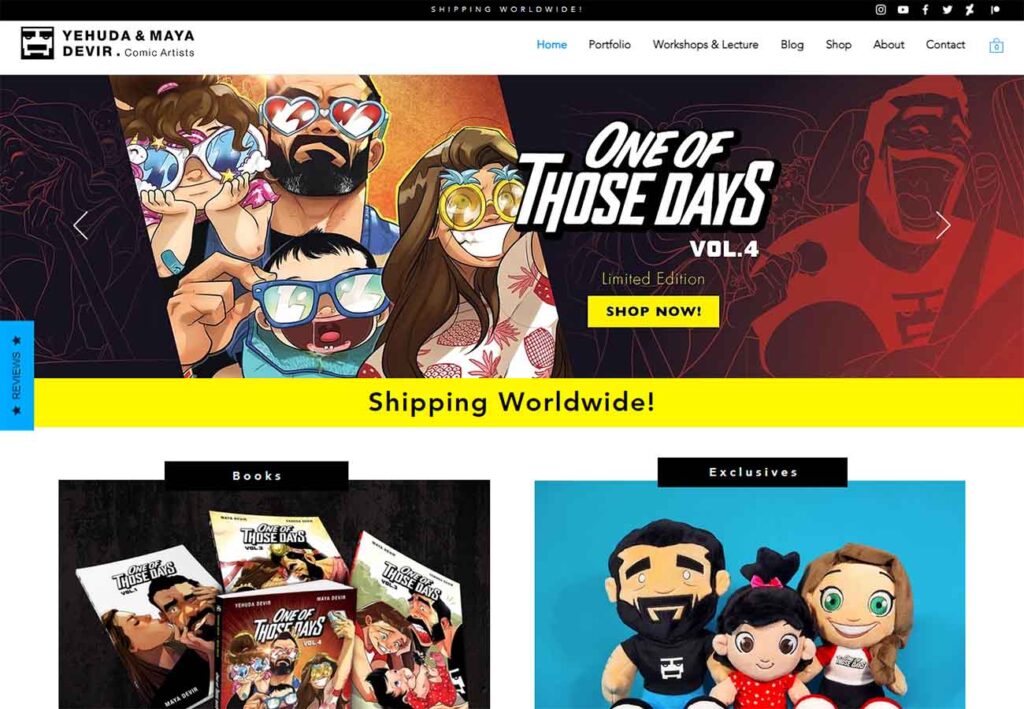 2: Squidbrains, Illustrations by Jillian Altmeyer
With illustrations this cute, who needs any distractions? This super-simple portfolio site features a grid like spread of art on the front page couched in plenty of white space, as well as links to the artist bio, their larger portfolio, Etsy store and Patreon. Just perfect for a freelance illustrator. A different graphic designer might have tried spreading the content across a larger, more complex website, but that would have been a mistake in our opinion.
If you have an art portfolio website rather than specifically an art business -with merch sales making up the bulk of it- then showcasing your beautiful multimedia work first and foremost is never a bad way to go.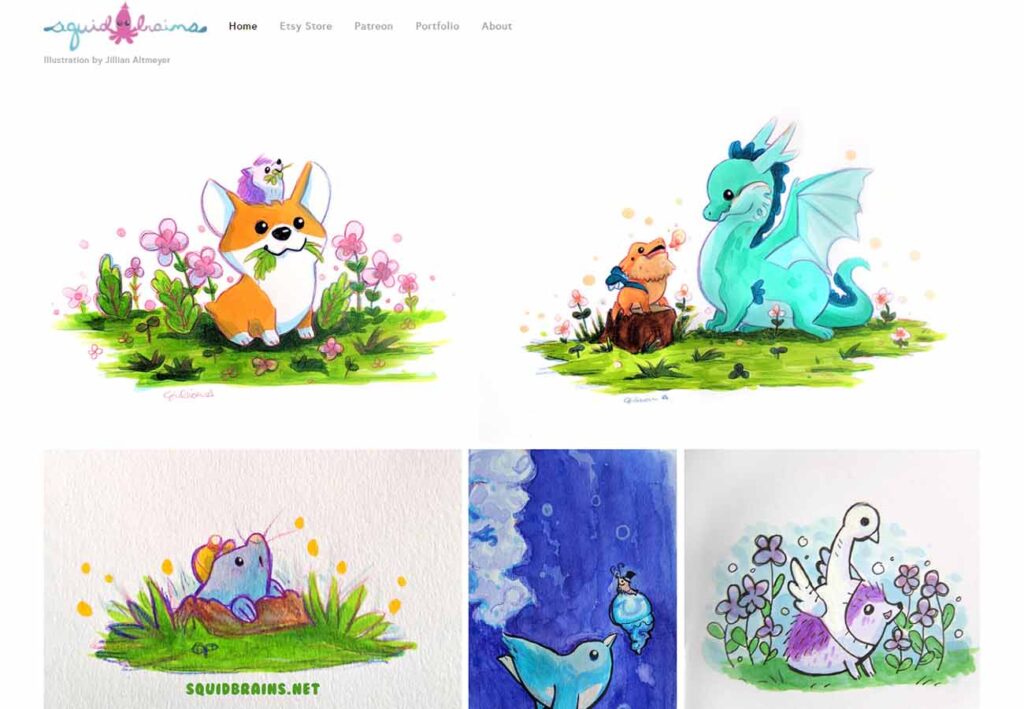 3: Shadowscapes, The Art of Stephanie Law
There's so much to compliment here. Beautiful watercolors, loose grid display of recent works with zoom in effect, combination of gallery/portfolio/store as well as artist info and CV.
This site integrates their web store into their entire online art portfolio, with purchase links on each individual piece whenever available. This is a smart design move if you're planning on selling prints or originals on the majority of your works, but those purchase links can get lost if site visitors find only the occasional piece available for sale.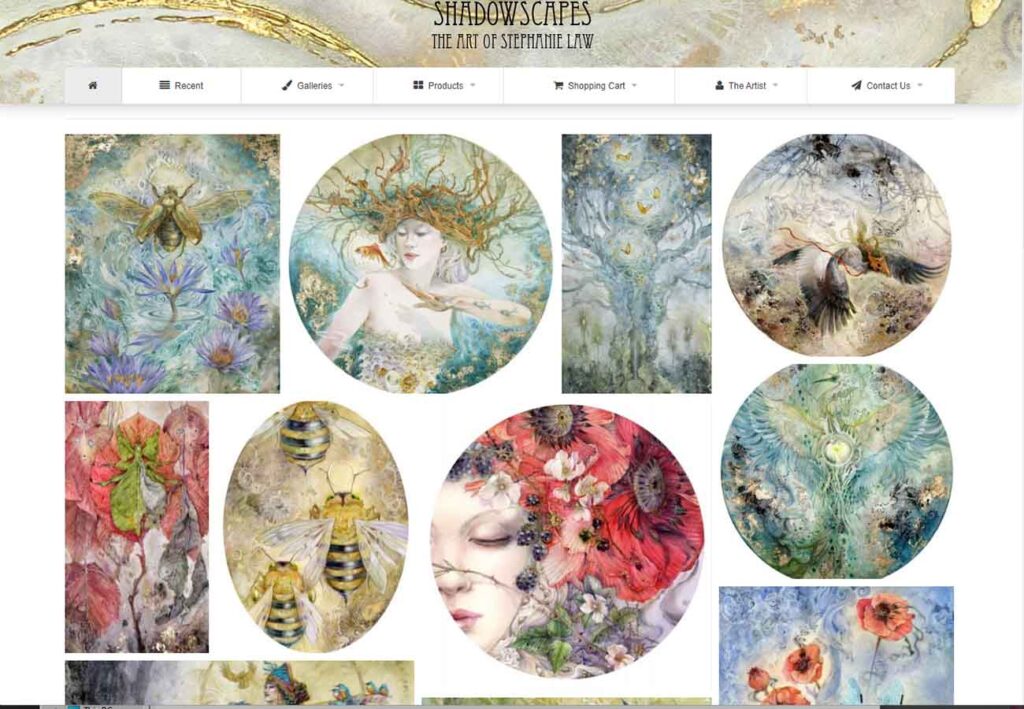 4: Danielle Weires, Artist and Illustrator
We love how the page is split between art and artist information, with the bio, contact details and CV on the front page. There's so much gorgeous content here, and the tightly cropped 4×6 thumbnail of each work is a great way to complement the clean nature of the digital art style.
http://www.danielleweires.com/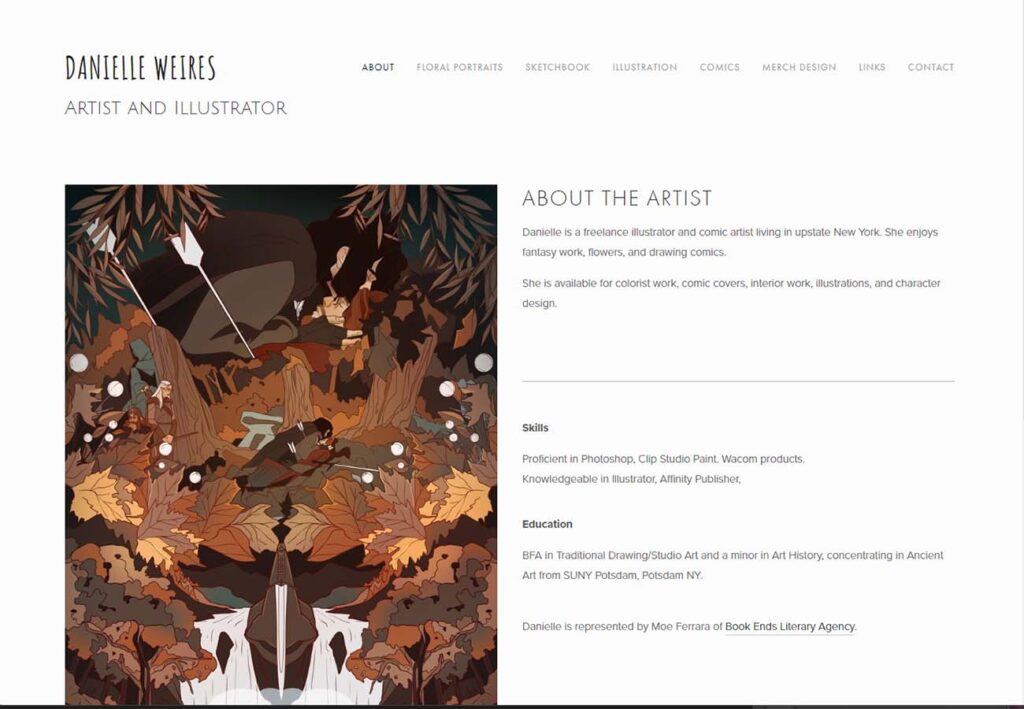 5: Rider Tattoo, Tiffany Rider's Portfolio
Great portfolio with endless carousel of recently completed tattoos. Structured to showcase the art first, this site provides all the hallmarks of a online art portfolio website: Work, the artist's biography, their commission information and contact information.
Check out the clever QR code hooked up to an e-commerce platform, allowing potential clients to easily pay their tattoo deposit. Particularly important for artists who practice any kind of body art like tattoos or piercings, it also includes details like aftercare information and all legal disclaimers.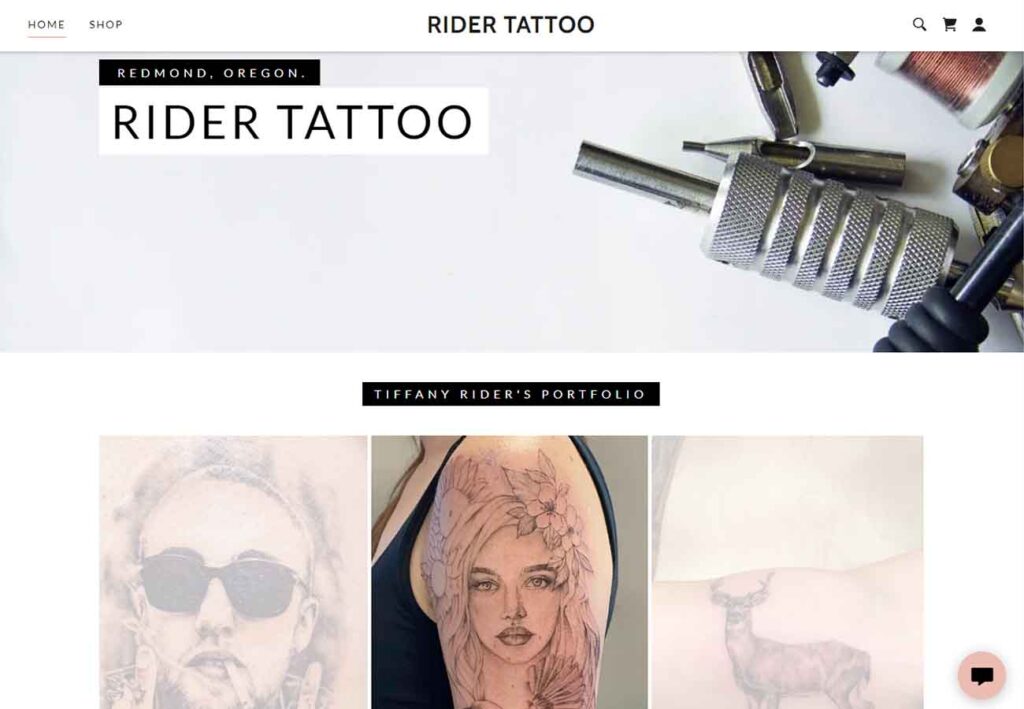 6: The Art of Matt Doering
Such a great artist portfolio site for an animator. The warm yellow background ties the hero image and thumbnails together, and the sidebar -with clean text links and plenty of white space- is the perfect compromise between featuring fun and engaging art and the professional artist who creates it.
As always, extra props for keeping navigation in mind, with the sidebar in view as the page scrolls. As a professional working on published works, we love the branding and intro around each project page, which does a great job of giving context and cohesion to what the viewer is looking at.
https://mattdoering.portfolio.site/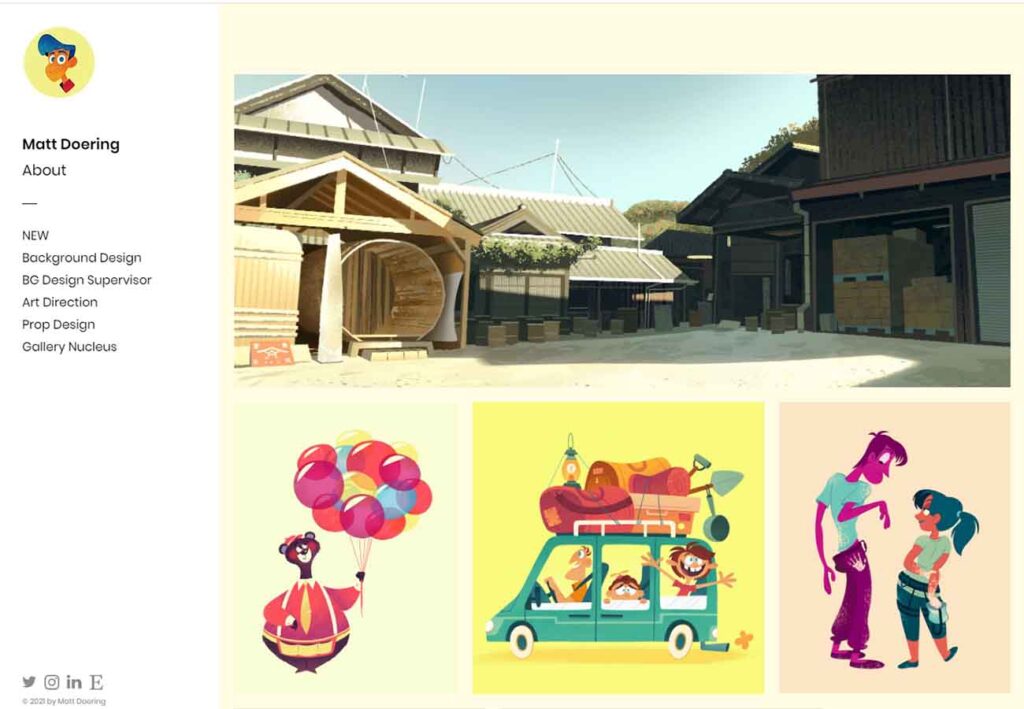 7: Red Wombat Studio, The Art of Ursula Vernon
Some sites are bursting with content on the front page, but Red Wombat Studios keeps it tight and concise. The cute category graphics next to the full color banner, sparing use of color in an otherwise black and white page, looks like a newspaper feature. Categories are bursting with content, blog section includes plenty of promotion, including book releases, tag lists and a Patreon link. Call us biased, but this is one of the best art portfolio website examples in this category.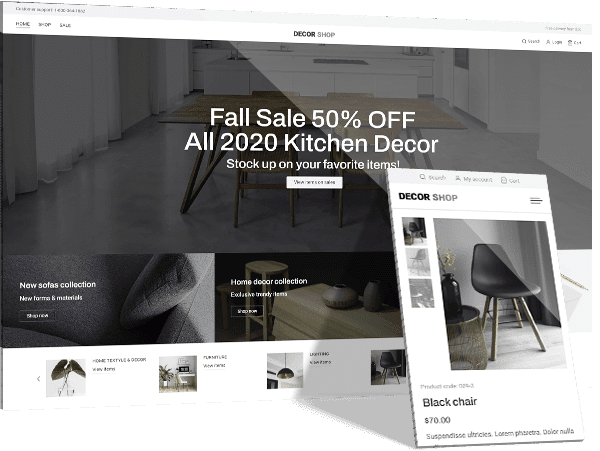 We deliver a free website mockup in 7 days. No future obligation or cost, guaranteed!
http://www.redwombatstudio.com/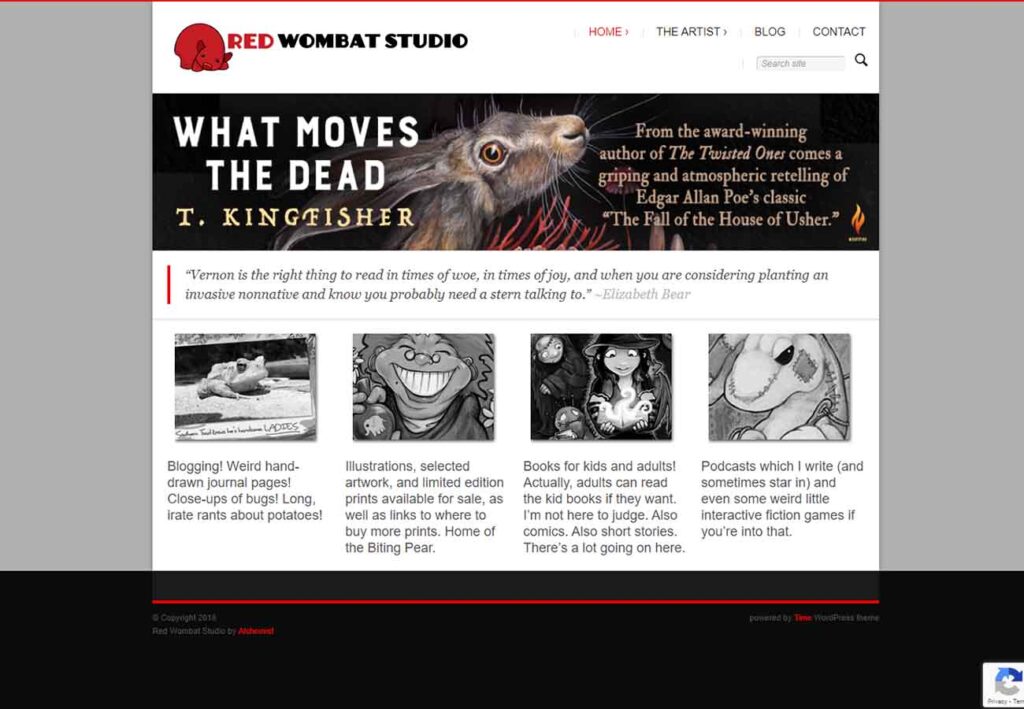 8: Loish, The Art of Lois Van Baarle
Somewhere between full page hero image and category carousel, this site features a nice mix of up-and-coming publications, professional and rough work and patreon information, all displayed on jaw-dropping artwork and photography. The softly colored logo on a simple sidebar is no less effective for being featured several times already in this article.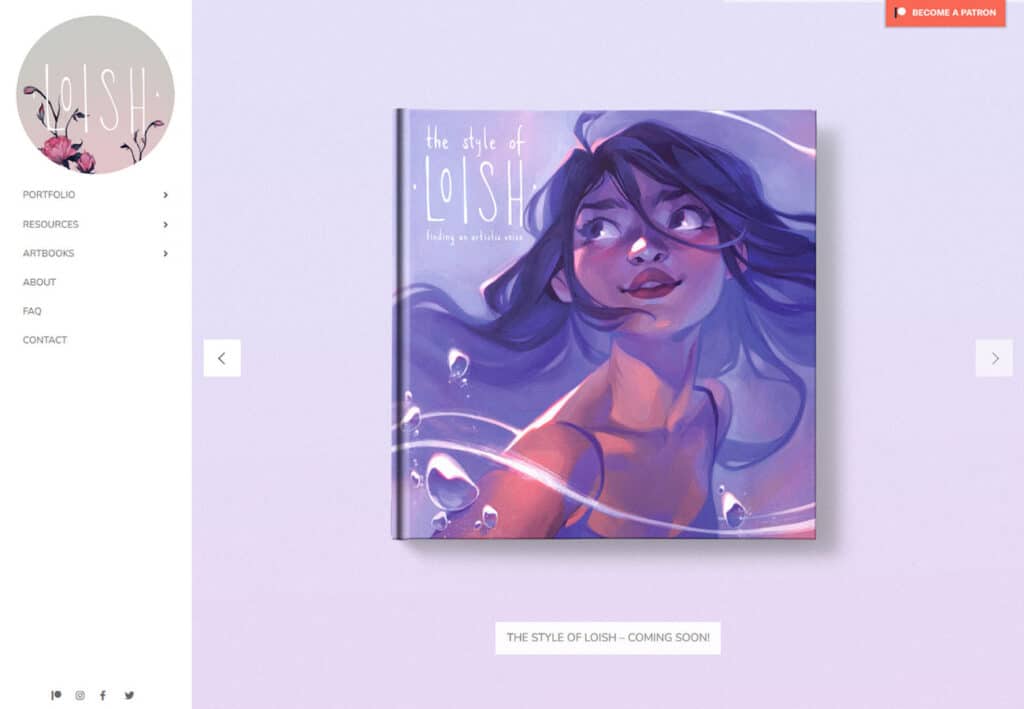 9: Sienna Art Studios
With a long homepage bursting with content, Sienna Art Studios isn't afraid to be nerdy, including youtube videos in their promotion and tons of info about their process. We appreciate the commission request form being right on the front page for easy access, as well as abundant artist information. This site feels full without being crowded, and shows a prolific and talented artist at their best while giving each category their own section and space to shine.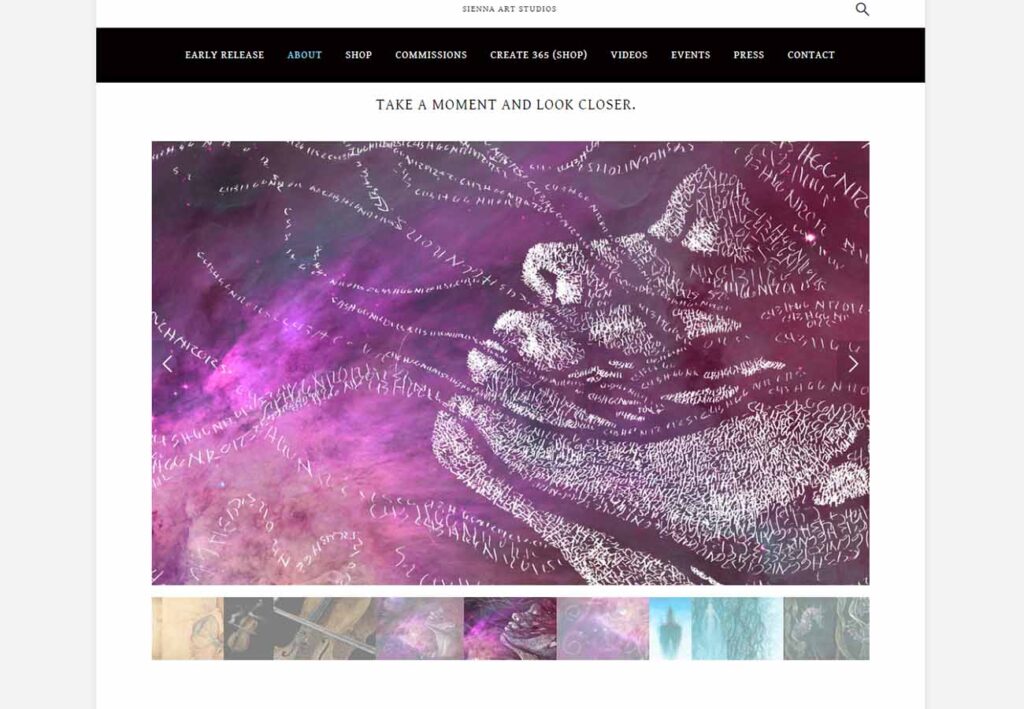 10: The Art of Cody Vrosh
This site smoothly integrates the artist's many social profiles, and does a great job of inviting viewer participation through categories, shop links, embedded process videos, and a mailing list widget. The watercolor banner is beautiful and compliments the art style nicely, although the smaller text links can get a bit lost in the starry background. This is a solid site for a solidly talented artist, using simple tweaks from a standard website builder for a wonderfully personal effect.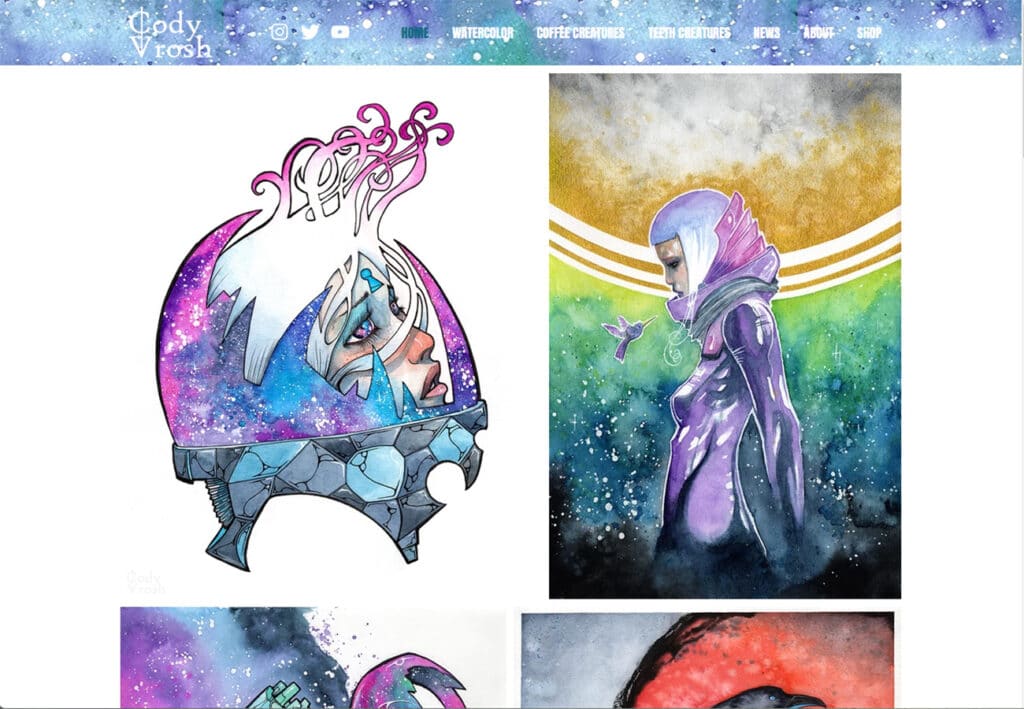 Frequently Asked Questions
What is the difference between an artist portfolio and a website?
An artist portfolio and a website are two different things, although they are often used together to showcase an artist's work.
An artist portfolio refers to a collection of an artist's best work, typically presented in a physical or digital format. It is a curated selection of their artwork that demonstrates their skills, style, and artistic vision. Artists often use portfolios when applying for opportunities such as exhibitions, grants, or collaborations.
On the other hand, a website is a platform where artists can showcase their portfolios and provide additional information about themselves and their work. A website allows artists to have more control over how their work is presented.
Why is having an artist portfolio website important?
Having an artist portfolio website is important for several reasons:
Professionalism: It showcases your work in a professional and organized manner, giving potential clients or collaborators a clear understanding of your skills and style.
Accessibility: A website allows your work to be easily accessible to anyone with an internet connection, increasing your visibility and reach.
Control: With a website, you have complete control over how your work is presented. You can customize the layout, design, and content to align with your artistic vision.
Credibility: Having a well-designed and up-to-date website adds credibility
Which website builder is best for an artist portfolio site?
Having an artist portfolio website is important because it allows artists to have a centralized online presence where they can showcase their work, provide information about themselves, and connect with potential clients or collaborators. It acts as a professional platform for artists to display their portfolio and establish their brand.
When it comes to choosing a website builder for portfolios, there are several options available. Some popular ones include Squarespace, Wix, WordPress, and Adobe Portfolio. The best choice depends on factors such as ease of use, customization options, pricing, and specific needs of the artist.
Disclaimer: The information contained in these blog articles represents the views and opinions of the individual writers, and do not necessarily reflect the views of CodeDesign or the featured businesses. Opinions are based upon information they consider reliable, but neither Codedesign nor the companies which are featured guarantee its completeness or accuracy, and it should not be relied upon as such. We take all information used for promotional purposes directly from the featured website. This information is accurate, to the best of our knowledge, at the time of publication. We take no responsibility for any changes made thereafter, and It's always best to visit the featured websites directly to ensure current and up-to-date information.