Design
Page Templates

Page Templates

3

4

5

8

10+

Rounds of Revision

Rounds of Revision

4

5

5

8

10+

Content Pull

Content Pull

✓

✓

✓

✓

✓
Content
Pages

Pages

10+

15+

25+

50+

100+

Sitemap Structuring

Sitemap Structuring

✓

✓

✓

✓

✓

Content Population

Content Population

✓

✓

✓

✓

✓

On-Page SEO

On-Page SEO

✓

✓

✓

✓

✓
Development
Custom WordPress Development

Custom WordPress Development

✓

✓

✓

✓

✓

Mobile Responsive Design

Mobile Responsive Design

✓

✓

✓

✓

✓

Unique Functionality

Unique Functionality

✕

✕

✓

✓

✓

Unique Front-End Development

Unique Front-End Development

✕

✕

✕

✓

✓

Unique Back-End Development

Unique Back-End Development

✕

✕

✕

✓

✓

Payment Processing

Payment Processing

✕

✕

✕

✕

✓
Project Management
Dedicated Project Manager

Dedicated Project Manager

✓

✓

✓

✓

✓

Project Dashboard

Project Dashboard

✓

✓

✓

✓

✓
A page is pretty straightforward. Any time you click on something and go to another URL that is a page. So for example if you have a team page and the bio of each team member goes to a different URL, then each team member bio counts as a separate page.
Total Number of Custom Designs
A custom page design is a page with a unique design on the frontend and a unique development interface in the backend.
In this example, all of the pages are unique and different. They each have their own unique design as well as a unique backend interface. In this example, there are 4 pages as well as 4 unique page designs.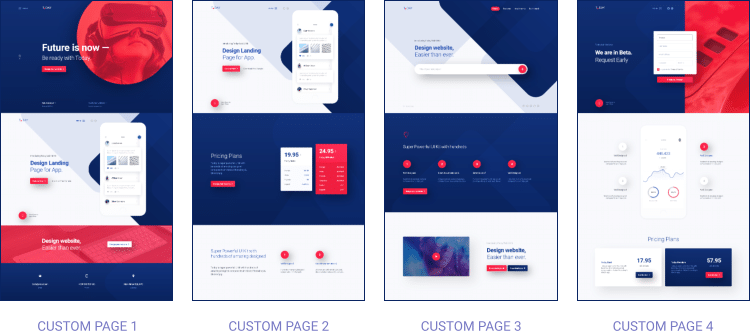 In this example, the homepage represents a unique page design and the inner pages share the second-page design. So in this example, there are 4 pages but only 2 unique page designs.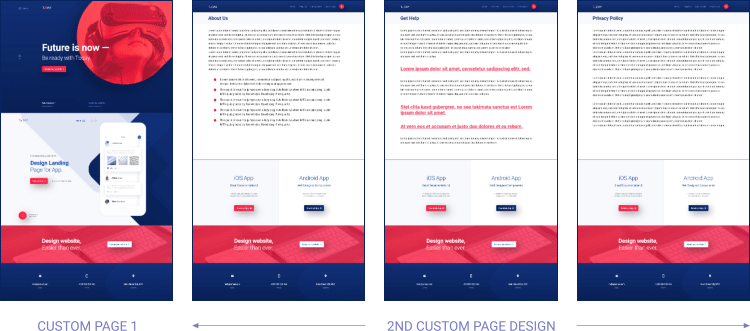 Unique functionality can be pretty broad as a concept. An easy way to think about it is, the more 'regular' a website you need the less expensive it will be. The more you need the site to perform or display in an unusual way, the more costly it typically is.